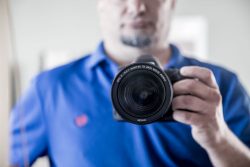 For my DSLR, I am a Canon guy. I have a 7D with a 70-200mm L series f/2.8 IS II lens and a 60mm f/2.8 macro lens.
For street, I have a Fujifilm X100S digital rangefinder camera with a 35mm equivalent fixed f/2.0 lens. It is an amazing piece of equipment that I love to use to make pictures.
I also have a Fuji X-T1 with an 18-55 f/2.8-4 R LM OIS zoom variable lens. It's a quality lens and I'm looking to add to my collection in the future.
Don't ask about what bag I use. There are too many to count. It might be a mild obsession.